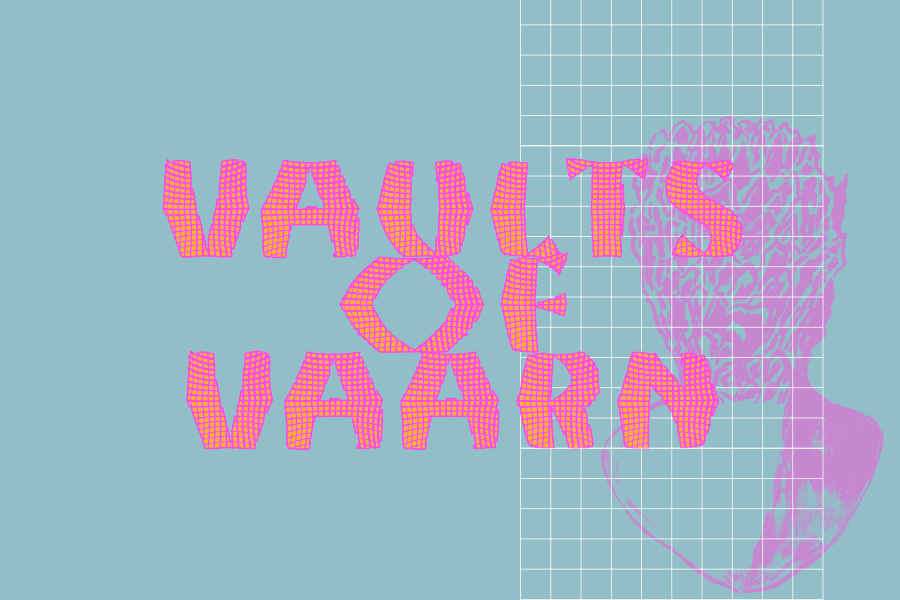 VAULTS OF VAARN #1
The sun is dying and the wreckage of countless eons litters the parched wastes of Vaarn, the desolate country that common folk call the blue ruin. It is said that these sky-coloured sands hide the graves of the Autarchs; have swallowed the buried arcologies in which the true seed of humankind was preserved through the Great Collapse; conceal forgotten crypts of memory, decaying crystalline lattices of ancient ego-engines upon which the dusk-blue dunes encroach without pity. From the New Hegemony to the south come drifters and dreamers, desecraters of the tech-tombs that lie sunken beneath the azure wastes. Light-years overhead, aurum-hulled craft ply their tender routes between the spheres, and miles below a pilgrim's feet, strange wombs are kindled once more with life undreamed of.
These are the hinterlands, where humanity's great works have fallen to everlasting decay, where machine and animal and fungus think to crown themselves our equal. The phthalo-sands, where newbeasts hunt proudly with boots upon their hind paws and chromepriests chant unending binary devotions to their nameless synthetic god. Only the desperate or the mad would seek to make a life here, to roam the blue desert in search of the secret VAULTS OF VAARN.
***
Vaults of Vaarn is a 48-page, black and white tabletop RPG zine, which presents setting information, a full game system, and character creation procedure for adventures in Vaarn, a vast blue desert that lies at the very end of time. The game is built on the chassis of Knave by Ben Milton, with lightweight rules, speedy character generation, and gameplay that emphasises creativity and problem-solving on the part of players and referee.
Issue #1 Includes:
Full rules for play, based on the light, easy-to-learn Knave system.
Five player ancestries with detailed character generation tables. Play as a haughty true-kin, a mutated cacogen, a mechanical synth, a feral newbeast, or a fungal mycomorph.
Twisted mutations, psychic gifts, and cybernetic implants to further augment your character.
120 Exotica, the strange and valuable far-future relics that can be discovered in the vaults beneath Vaarn.
A bestiary of 28 ferocious science-fantasy monsters that lurk in the blue wastes.
Nine pages of content generation tables that allow a referee to spark ideas for their own vision of Vaarn. Generate desert ruins, NPCs, trading caravans, nomadic clans, arcology domes, esoteric drugs, forgotten gods, and more.
Fully illustrated throughout with evocative black and white line-art. Printed in black and white with colour covers.
Deluxe Edition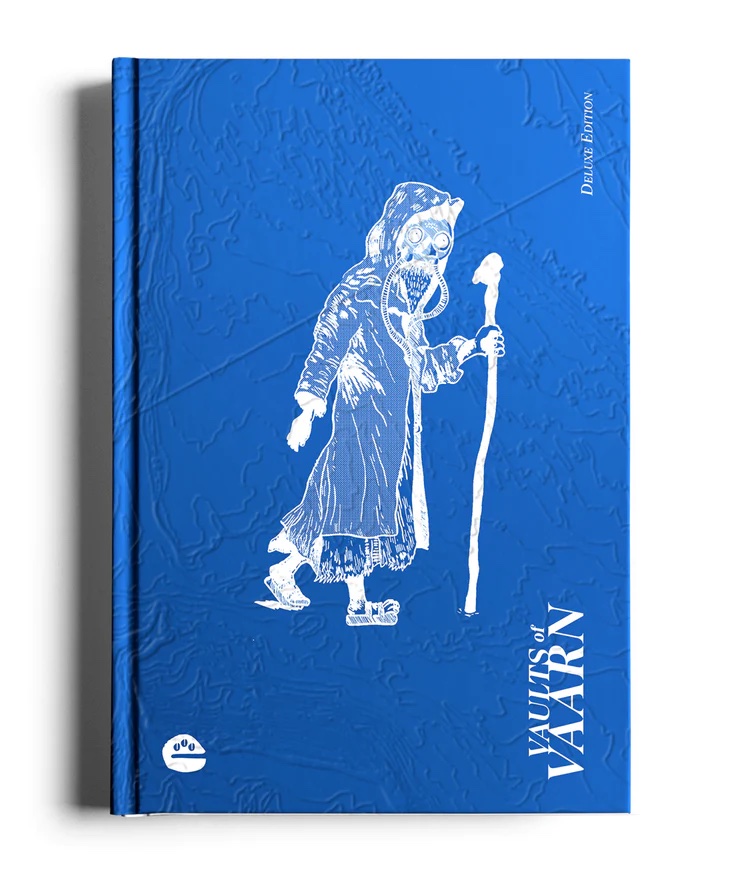 Vaults of Vaarn: Deluxe Edition now available from Games Omnivorous and Antipode Zines. This is a 144 page hardback book, printed in blue ink on white paper. It collects Issues 1-3, along with brand new artwork and content.
Print Copies

If you would like a printed 48-page physical copy of the zine, they're available for purchase at my zine store. Alternatively, available from selected stores:
UK: Igloo Tree and Rook's Press
EU: All the Problems in This World
US: Spear Witch or Exalted Funeral
Canada: Monkey's Paw Games
What Others Have Said
'While the aesthetics are 100% zine (in a good way), the content is a full fantasy adventure game in a weird, post-post-apocalyptic world inspired by books like Dune, The New Sun, and Hyperion, as well as the art of Moebius.' - The Viridian Scroll
'A cool setting with a lot of opportunity to pull from both your favorite standard fantasy resources and science fiction compendiums in order to build out a wild mash-up world ... I really like the simple package, a semi-minimalism that succeeds in springing my mind to creative action. That is why we play these games, right? To be sprung, flung, inspired, stimulated all while having some good social fun.' - Perplexing Ruins
'The setting is wild, it feels like the author took Numenera, Gamma World and Dune and got them drunk, put them in a big vapourwave-themed hotel room and let them go at it.' - Pod Of Blunders
Patreon
If you really enjoy Vaarn and want more of it every month, you can subscribe to my Patreon.
Download
Click download now to get access to the following files:
Vaults of Vaarn #1 Booklet Format
10 MB
Vaults of Vaarn Character Sheet
101 kB